Pickleball Experience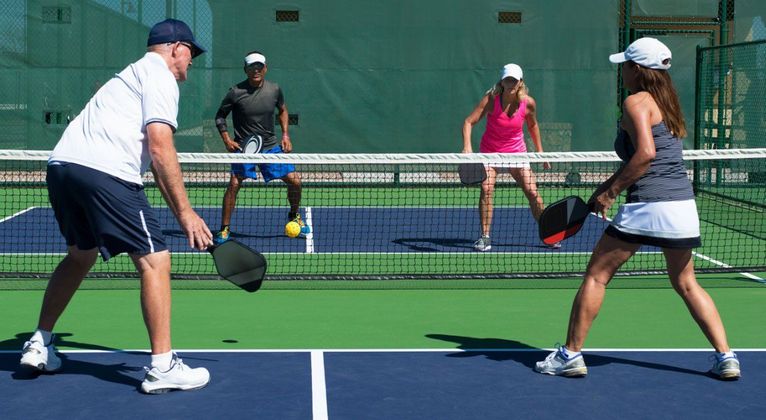 Our Pickleball Experience makes it FUN and EASY to LEARN and provides a great way for those curious to decide if this is your new favorite activity. There is a reason why Pickleball has become the fastest growing sport in the USA*.
Your Pickleball Experience will include:
1. Teaching you the Basic Rules as described and for your advanced review including scoring, serving, positions, court etiquette and
sportsmanship:
USA PICKLEBALL OFFICIAL RULEBOOK: https://usapickleball.org/docs/USA-Pickleball-Official-Rulebook-v8-14-2023.pdf
2. An Instructor to practice and coach you towards improving your techniques
3. Development using our training machine with pickleball drills that humans cannot match, and many experts agree is the best:
Pickleball Tutor is the World's #1 selling pickleball machine and our Pickleball Tutor Plus with a remote is recognized as an elite machine:
The Tutor Plus packs in all the features you need for a rounded practice session. We can load it with 110 pickleballs and set it to shoot them
with topspin and backspin at up to 65 mph. It also offers manual elevation so you can practice a whole range of shots from slow, high
volleys to quick dink exchanges and third shot drops.
4. Guest are encouraged to bring own Paddle, but we carry a limited number of extras and are happy to provide one by request. Please let your Instructor know and include your request upon making the reservation.
Depending on your level of experience and request, your Coach will customize an experience to meet your skill set. Whether you are a beginner wanting to practice basic shots or an experienced player who wants a challenge, then we will customize the experience for you.
*In 2021, 2022 and 2023, the sport was named the fastest-growing sport in the United States by the Sports and Fitness Industry Association, and by 2023 it was estimated to have over 4.8 million players. The growing popularity of the sport has been attributed to its short learning curve, its appeal to a wide range of ages and fitness levels, and its low startup costs. Pickleball is a racket or paddle sport in which two (singles) or four (doubles) players hit a perforated, hollow plastic ball with paddles over a 34-inch-high (0.86 m) net until one side is unable to return the ball or commits an infraction. Pickleball is played indoors and outdoors.
Languages
English speaking only
Fun and Easy way to Learn the Fastest growing sport in the USA!
Instructor

Paddles and Balls

Tutor Plus Pickleball Machine
Frequently asked questions
Yes, we love being the first to teach you!
No, we provide inexpensive paddles and then you can decide if you wish to advance your game with your own investment.
We think so. Read the description of the Pickleball machine and decide if this can benefit you.
Wear Comfortable Clothes
Best for pivoting side to side, back and forth
Best for pivoting side to side, back and forth