"Checkout Our Friends Viking Bags And Other Websites Born Tough And Elite Sports"
Search Online for great travel gear!
Paddle for FREE on your Birthday. (ID Required)
Call (305) 879-4220 for Group Rates!
9 Reviews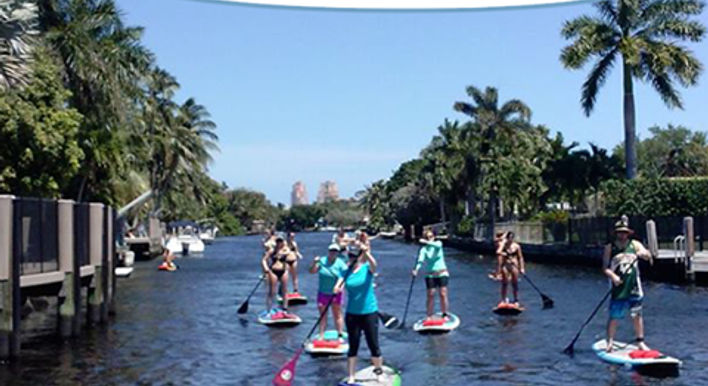 We make it Fun and EASY to LEARN how to Stand Up Paddle Board and want our Prospective Guest to know that it is easier then it looks.
Sunrise Paddleboard Guides twist and turn past Manors and Mangroves on this adventurous Journey along "Island City" incorporated in 1947. It is bordered on the north by the North Fork of the Middle River and the city of Oakland Park; to the south, the boundaries include the South Fork of the Middle River and the city of Fort Lauderdale; the westernmost boundary reaches Interstate 95; and the eastern terminus of the city limits extend to Federal Highway (US 1) and the Sunrise Paddleboard Showroom. Your Journey will start from our Middle River Showroom conveniently located on Federal Highway.
We have a restroom for changing, indoor storage (no lockers), outdoor shower, free parking and a Healthy Restaurant (Mya Papaya) that serves Smoothie's, Kombucha, Beer, Wine, Soups, Salads, Sandwiches, and Entrees with healthier choices. Our Showroom location features a variety of Stand up Paddle Boards and Accessories for those who become hooked on the sport. We have sold 1000's of boards and proudly offer some of the lowest pricing on Stand Up Paddle Boards in the SUP Industry.
Your Guide will start off with some quick pointers and launch you into the Knee Position. Once you establish you're able to steer and control the direction of the board; then you will be ready to Stand Up. The entire Voyage is great practice for First Timers as your Guide will provide Instructions along the way for those needing assistance or just give the advice to improve your technique. Experienced Paddlers and Locals are equally Informed as we provide Demos of our Skills and Teach everyone how to Navigate are winding River. We welcome those who learn our routes and return with friends to ultimately lead their own expeditions on the same routes. Due to popular demand, we highly suggest booking in advance. The River offers incredible landscapes and scenery like nothing else in the world.
Trip Advisor says the only way to travel the waterways to really see things up close and personal is by Sunrise Paddleboards and we agree! That was our intention from day one and we couldn't be happier to have a 95% Excellent Customer Satisfaction rating from third-party vendor surveys. Island City ECO Tour travels to a 9.3 acre nature preserve with plenty of tropical palms, birds, marine life, iguanas, and mangroves for your eye candy.
Other Tours we offer will journey from Fort Lauderdale's Barrier Island to the Riverfront in Las Olas with professional and friendly guides is a once-in-a-lifetime occurrence for tourists. However, you would be surprised to know how many locals repeat the Tour as it changes every day.
We may navigate different routes based on current, wind conditions, and other factors to make the tour safe, fun, and inviting for all ages.
1 Reviews
The SUPSmart Certification Course is perfect for Novice or Beginners wanting a complete education on Stand Up Paddle Boarding from learning about the equipment and accessories to situational paddling with variations that will allow you to practice the skills we teach you. Our course is in chronological order making it Fun and Easy to Learn starting with very basic techniques and growing into advanced paddling. Participants MUST complete all Sessions to receive the Certificate of Completion.
GUARANTEED RETURN ON YOUR INVESTMENT:
My/Our course evolved from over 12 years of experience. My Team and I have trained over 100,000s of Beginners or First Timers. Every 1 of our Guides have completed the course which will Qualify you to become a Guide. I/We are so confident in what will teach you that we offer an OPTIONAL Return Of Your Amount Paid in the form of work and or "Guide Compensation". How or Why? Just look at all the activities we offer. We have peek seasons that require additional help and who better to call upon then our own Trained and Certified VIP Members. Don't worry, it is 100% optional and we don't expect all participants to want to be a Guide, but for those who do then we look forward to utilizing your newly acquired skills. Participants are guaranteed compensation as a Guide working directly with our Team if you wish to earn Part-Time Income. I will personally guarantee paying you earnings exceeding your Investment as long as you are willing and able.
Respectfully,
Brian E. Galton, Founder
Session 1: CLASSROOM INSTRUCTIONS and QUICK LESSON - 2 Hours
1 - History of SUP/course overview
2 - Terminology
Water
Techniques and Maneuvers
Accidental
People
3 - Board Parts and Paddle Parts
4 - Pre-paddle Safety and Preparation
Loading and Unloading Board(s) on a Vehicle
Roof Rack Options
Local Launch Options
Rules for Beach Launching and Launch Zones
Tide Tables and Charting Ocean Paddling
Understanding Weather
Optional methods for lifting board on Dock and Seawalls
Avoiding Hazardous Objects (Seawalls and Docks)
How To Escape a Rip Current
Overall Trip Planning (Fuel, Mobile Phone, Hydration, Route Sharing)
5 - Waterway Cleanups
6 - Quick Lesson and Practice
Avoiding Seawalls and Docks (Barnacles)
Learning To Stand Up
How To Fall and Get Back on SUP
Prone, Knee, and Standing Positions
Paddle Techniques: Forward (T-Grip) and Reverse
Session 2: Flat Water Paddle (Island City ECO Paddle and Lesson) - 2 Hours Comfortably Paced
Board and Paddle Preparation
Using Tie Downs
Hand Signals
Buddy Tow
How To Spot Manatee
How To Identify Birds
Session 3: Intracoastal Paddling (Venice Of America and Seven Isles) - 2 Hours
No Wake Zones
Speed Signs
Manatee Season
Low and High Tides / King Tides
Session 4: Ocean Paddle (Reef Snorkel & Ocean Paddle Adventure Lauderdale-By-The-Sea) - 2 Hours
Anchoring
Dive Flag Rules
Pier, Moorings, Buoys, and Boats
Bleaching
Jelly Fish
Identifying Marine Life
Locations To Snorkel
Session 5: Distance Paddling and Touring (7 Mile Paddle) - Guided 3 – 4 Hours Paddling at Comfortable Pace
Practice Everything Learned
Session 6: SUP YOGA - 90 Minute Class with Certified YOGA Instructor
Beginners to Intermediate Poses
Session 7: Paddle Board Fitness - 60 Minutes with Fitness Instructor
How to Use a Board for Strength and Endurance Training
Session 8: Night Paddling (Full Moon Paddle) - 3 Hours
Preparing Board for Night Paddle
Participation as a Guide
Refreshments Celebration
Session 9: Course Final and Bonus Paddle
Sup Smart Certificate of Completion
VIP Memberships Perks
Shirt and Bucket
How to Select a Board including Construction, Sizes, and Purposes
SUP Accessories 101
Bonus: One Way Ticket to Paradise and Wristband for Bonnet House Grounds
Cancelation and Refund Policies
NOTE: All times are approxiamate for each session and will vary depending on your participation. Each Session can and will be scheduled to meet your convenience. Upon scheduling your first session, we will adapt a schedule that works best for you. If for any reason we cannot adapt to your schedule during this first session then a full refund can be requested and will be honored as long as it is done prior to the 2nd session. Any requested Refunds after the 2nd session begins will have $200 deducted from the amount paid for each session already completed and after 5 sessions No Refunds are permitted.